March 3, 2015
Fashion comes in many guises. For some it's a perfectly posed model, enshrined in couture from head to toe in a controlled studio, whereas for others, increasingly, fashion is best captured out on the city streets, where trends are being made. Impromptu, candid shots of a suave couple on a bench; an instagram snap of a transcendent pair of shoes on the subway; a girl, in profile, waiting for a taxi in the rain, in possession of a majestic clutch bag: all are valid street-style shots. So what do you need to capture fashion, at its most authentic, in the wild?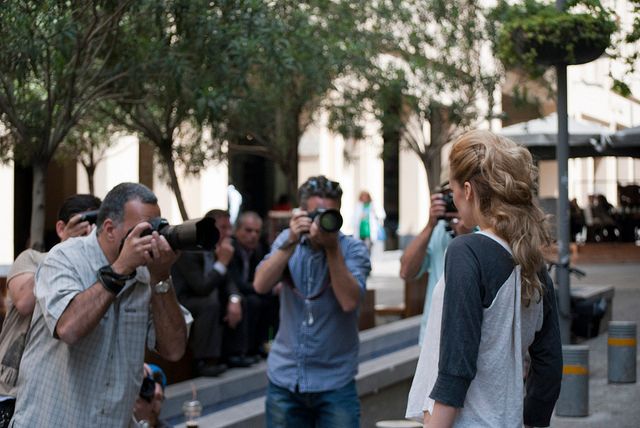 https://www.flickr.com/photos/karpidis/7146862913/sizes/z/
The right environment
If you're seeking stylish passers-by who sport a certain look, timing and location are key. There are the obvious haunt; jazz bars, bookshops and fashion-stores will all attract a certain "type." If you prefer a mixed bag, a main high street, public transport system or university campus will yield the most colourful results.
The right contacts
Whether there's a fashion book signing, a film festival after party or a charity catwalk show happening in your home town, knowing someone in events or PR who can alert you to shindigs and soirees will unlock the most thrilling opportunities to which you can bring along your camera and create some fashion art.
The right attitude
There's a certain degree of charm and persuasiveness required taking someone's image: and a knack to getting them to agree to it. It doesn't do to be hanging around on street corners stealthily snapping, unless you can be completely brazen and honest about it with your subject. Nine times out of ten, they'll be tremendously flattered, especially when you show them the images you've captured.
The right equipment
Whether you shoot on film, or digitally, if you're trying to capture candid shots you need a camera that's light, easy to lug about all day and won't require lots of prinking with lenses and settings. A fast shutter speed, quick response time and good focal range are also crucial: take a look at a cameras buying guide to choose the right camera for your subject. A portrait lens will also be important for those with an interest in capturing faces, hair and makeup.
Being a great street style photographer isn't quite as easy as it looks, but if you have the right attributes, with a little luck and a whole lot of patience you can create images of real, beautiful people that beat the constructs hands down. Be bold, be persistent and be creative. You'll soon get results.
Image by karpidis, used under Creative Commons license