January 20, 2015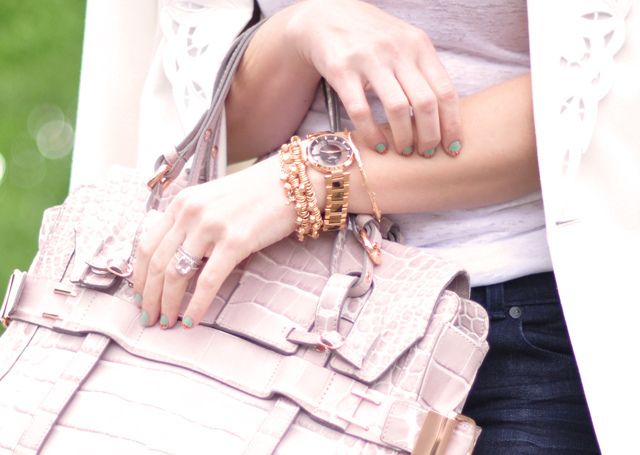 Nearly a century ago, rose gold was an extremely popular metal and today, this finish is making a comeback. Now the hue appears in popular products and fashion magazines, boosted by its feminine and romantic appearance. In addition, rose gold is a versatile color that works well with the traditional white and yellow shades of gold. Most people who like rose gold actually wear all three shades together rather than sticking to one particular shade of metal. This makes it easier to mix and match your favorite pieces of jewelry.
Pink Gold
A lot of people refer to rose gold as "pink gold." They like it because it seems a little bit more exotic than the traditional yellow gold. However, the secret to this beautiful shade of metal is actually copper. The copper is used as an alloy to help the gold withstand its wear. This process changes the color and creates a pink, red, or rose gold color. Each metal supplier uses a different amount of copper in the mixing process, so the color can change with each piece.
Rare
Compared to traditional gold jewelry, rose gold is used less frequently in popular designs. Many people love this about the metal, because they feel that this makes it more exclusive. Although the finish is less common, the price is about the same as yellow and white gold. This is because it isn't an expensive process to produce the rose hued metal. Also, rose gold weighs about as much as yellow gold.
History
When Cartier debuted the trinity band during the 1920s, rose gold became more popular. This piece had three intertwining bands – one white gold, one yellow gold, and one rose gold. Jean Cocteau, a French filmmaker and writer, wore two of the Trinity bands together on his pinkie finger. This made the rose gold trend even more appealing. Overtime, the rose gold trend faded and people relied on traditional white and gold metals.
In the beginning of the 21st century, feminine pieces made a comeback. Women opted for vintage and non-traditional jewels because they looked more unique and rare. This set the stage for rose gold to make a come back. People like wearing today's rose gold pieces because they look trendy. However, they can also be passed off as an heirloom.
Today, thousands of designers are embracing the rose gold trend and most jewelry websites have rose gold collections, including sites such as Tiffany and Milano. These jewels have a more delicate feel, and they mix in well with more modern pieces. In fact, some men are even trying out this unique metal as an alternative to the traditional options available. This time, it seems like the rose gold trend is here to stay!