August 19, 2015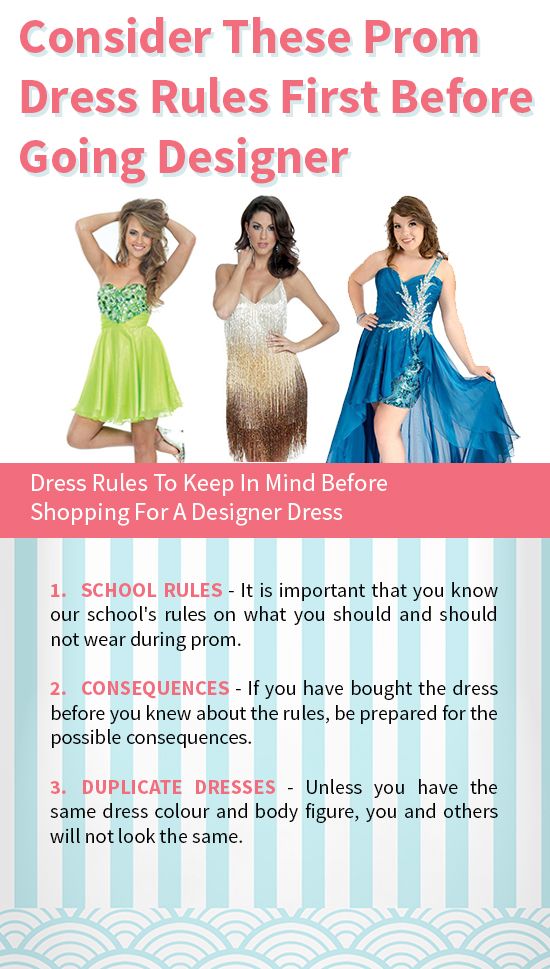 You can't rush when you're selecting your prom dress; it's an investment for an important evening. Here's what you should know as you shop.
You know this much: you are going to prom. Of course, the next question is: what will you wear?
You may have a style in mind, clips from a magazine, and a screenshot on your smartphone, but before you actually start looking, there's something you absolutely must do first: find out your schools' rules for girls' dresses. No matter how confident you feel that your dress will pass muster, you still must check the rules as things may have changed. For genuine peace of mind, you should also note who gave you the rules. If the rules change after you've purchased your dress, and you still want to wear it, you should be able to cite the circumstances for your choice. It may – or may not – work, and will allow you some kind of dispensation. After all, you absolutely love your selection from designer prom dresses and can't imagine not wearing it.
There are also some "unspoken" internationally accepted rules, apparently. Have you heard these?
If you are a senior/graduate and attending school prom, you wear a floor length gown.
If you are attending your school prom, and not graduating this year, wear a short dress.
If you are going to another's school's prom as a guest, you wear a short dress.
Some girls from the same high school started a Facebook group and called it "Dibs" – they posted a body-only photo of the dress, claiming it, so that their fellow attendees won't duplicate it. Others across the country are even starting their own Dibs groups. Then again, we think that unless you have the same colouring and figure, you and unknown said fellow attendee are not going to look alike. There are enough prom dresses to choose from that duplication is unlikely.
Some actual dress code rules from actual schools:
Your dress cannot be shorter than finger-tip length
The straps to your dress cannot be narrower than two-inches
No dresses with cut-outs
No more than one-inch of midriff exposed
Skirts should be no shorter than three inches from the knee
A subjective evaluation of "too much cleavage" upon entrance
Your dress cannot be "too tight" (again, pretty subjective)
Dresses may not be cut below the bust line. The dress' bust line continues around your torso and should be directly under your armpits.
When standing with arms to your side, "if flesh touches flesh below the bust line the dress is inappropriate"
No bare midriff exposure or see-through material
Absolutely no baggy jeans
No strapless dresses; dresses must have straps because "bare shoulders are distracting to boys," a New Jersey principal intoned
No open-backed dresses
No two piece dresses that expose any midriff
No slits more than knee high
Dresses may be backless, as long as it is not cut below the navel
Dresses must be longer than five inches above the middle of the knee, front and back
Necklines of female students must not be lower than five inches from the base of the neck.
No short dress with "sheat" bottom (no long sheer overlay of short dresses)
Bi-level (aka high-low) dresses must hit the knee in the front
No ballerina dresses above the knee
No netting "secretly" showing skin (no illusion tulle/fabric)
If you ignore the rules, you could be subject to:
Being removed from the prom
Being forced to wear a (random) coat over your dress the entire evening
Being suspended for a day
Issues have actually arisen at schools which have taken issue with choices. When one young lady wanted to wear a tux, instead of a gown to her prom, her school principal told her she could not. The teen contacted the ACLU and her school district reversed the decision. On the opposite side of the spectrum, a young man from Texas wanted to wear a dress to the prom, and the assistant principal said he could not. Again, the ACLU stepped in and freedom of dress prevailed.