June 23, 2016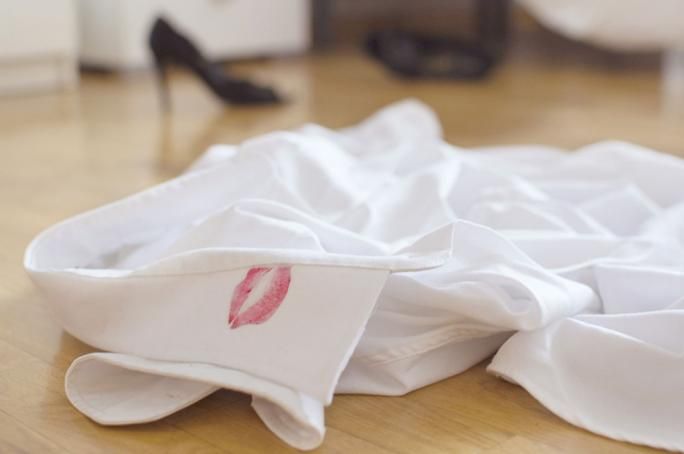 Of all the stains you could possibly get on your clothes, lipstick is one of the worst because it is made of oil, wax and dye. These ingredients are designed to stick to your lips and retain color, but those qualities will work against you once they've made it into your fabric. Don't panic, though, no stain in the world is no match for human ingenuity, and it can be simpler than you think.
Fresh Stains
Of course, it's not always possible to notice lipstick stain right away or be able to remove clothing when you do, but the best thing to do when you notice a lipstick stain, if you can, is to treat it immediately with some soap and water. Scrape as much of the lipstick off as you can before you begin to work, and then use a light circular motion to loosen the stain; if you rub too hard you could push the stain farther into the fabric. Blot with a paper towel. Always check the label on your clothes before doing drastic to be sure you don't ruin a delicate fabric by scrubbing or other treatment.
Older Stains
If the stain isn't fresh, you'll need to take advanced steps. Spray the lipstick stain with hairspray, wait for fifteen minutes, and then wipe with a warm wet cloth. You can also use any laundry pre-treatment like Shout or Resolve instead of hair spray; after the stains sits, rub a detergent on it and rinse in hot water. If your stain is old and tough, you may need to go so far as to use a mild oxygen-based bleach like OxiClean or Country Save Bleach. Allow the stain to soak in a solution of water and the bleach for eight hours, and then wash normally.
No matter what your situation, don't count your clothes as ruined just because they have lipstick stains. Anything that gets into your clothes can come out again, if you're willing to try. Check out this interactive stain removal guide to see how you can remove other stains!