February 17, 2015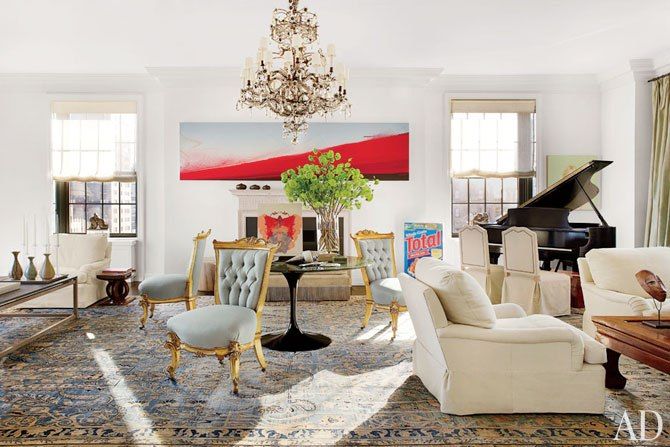 City apartments come in many different styles, and some lend themselves to one particular type of interior design rather than another. A studio apartment, for example, may suit the professional bachelor, while a large apartment complete with original features might be the choice of a family that appreciates traditional design.
Traditional
A traditional style of furnishing has undeniable elegance and will make your apartment welcoming and inspiring. To achieve a traditional look, you will need vintage rather than modern furniture, such as a Chesterfield sofa for your seating area, an iron bedstead for your bedroom, and a bureau or leather-topped desk for your workspace. To avoid a cluttered look, keep the walls light with a subtly-patterned wallpaper or cream paint.
Living in a tiny space
Many of us who have to live in a small space still want to be able to say they have a bedroom, a living room, a kitchen, and maybe even a dining room. However, many apartments these days are open-plan, so if you want different areas, you will need to make zones. You can do this by hanging curtains and screens, or even pieces of storage furniture, such as bookcases, to serve as room dividers.
You can also invest in modern furniture that has been specifically designed to capitalize on space. For example, if you only have one room, you can buy a pull-down bed that closes up to the wall when not in use – these come in a variety of sizes, from singles up to king-size. Drop-leaf tables that can be put up when needed are also a good choice for space-challenged apartments.
Airy and spacious
Other people may have airy and spacious apartments, but how do you make such a big space feel warm and welcoming? The first thing to do is dress the windows in an attractive manner to draw the eye to them and to warm the space up. Blinds are always a good choice and can be hung on their own or teamed with side drapes to create more of a feature.
If you have a lot of floor space, you should opt for larger furniture to fill it up. This is easily achieved with seating as there are plenty of sofas available that offer space for four people or more. It can also be a good choice to buy a sofa that has a chaise longue element to it. This not only gives another seating option but also gives a sofa a more interesting shape and can be used to zone a room.
If your large apartment is a converted industrial space, you could decorate it in the same theme, using industrial-style pendant lighting and wooden and metal furniture – the perfect choice for the urban dweller.
Whatever the size of your apartment, you should ultimately furnish it in a way that makes you feel comfortable and that you can live in, rather than focusing on a definite style that looks good but is less than welcoming.