December 1, 2015
Everyone feels down once in awhile. Whether you woke up in an off mood, had a bad day at work, or something truly devastating happened, you need to be able to lift yourself back up again. It helps to have a whole bag of coping tools to get back on track rather than just one or two. Some tricks will work better than others, depending on the day and situation.
Positive Affirmations
 Using positive affirmations is a great way to turn your mood around. Affirmations are upbeat proclamations said as if they are true, especially to replace self-defeating statements. For example, instead of saying, "I am broke," replace it with, "more money comes to me every day." Changing the negative thought into a positive one can make a huge difference. Steps to add power to your affirmations include:
Write down the positive statements.
Hang the affirmations up in your living space.
Surround yourself with positive quotes and read them often.
Read the affirmations aloud regularly.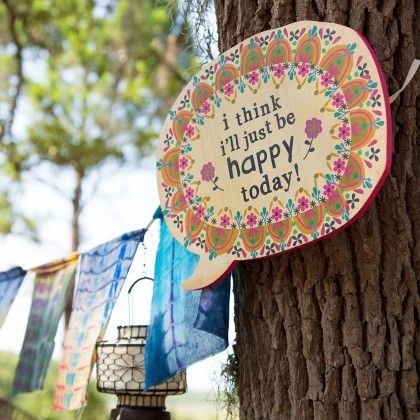 Laughter
Laughing is a powerful cure for what ails you. When you're sad or down, you might not feel like guffawing, but give it a try. Ways to make yourself burst into chuckles include:
Go to a comedy club.
View a funny movie.
Call a friend or relative who always has a joke or amusing story to tell.
Kindness to Others
When you're feeling down, one of the best ways to make yourself feel better is to do something nice for someone else. To lift yourself up, try one of these:
Smile at everyone you see.
Let a person cut ahead of you in traffic.
Pick up trash on the street and throw it away.
Pet your dog and then take him/her for a walk.
Nature Therapy
Going outside into nature can be healing. If you live near the ocean, a lake, the forest, or a field of wildflowers, you have some natural medicine within walking or driving distance. If you dwell in an urban area:
Go to a park.
Sit outside and watch the clouds.
Watch a sunrise or sunset.
Listen to the birds.
Write It Out
Another way to make yourself feel better is to write in a journal. You don't have to let anyone else read it, but the act of writing can be extremely therapeutic. You can:
Set the timer for 30 minutes and write about anything and everything.
Make a gratitude list.
Describe in great detail what's bugging you. Venting can help!
Stock up on a few coping tools to lift yourself up, so you'll be ready next time you hit a bump. Happiness is within your control.